In Microsoft Dynamics NAV 2009, one of the most popular new features is the Notes FactBox. Let's take a look at the basics of how it works.
In our example today, we have a Customer who is pretty behind on their payments and we're going to block them, note why, and ask our collections person to call them.
Depending on the size of your Customer Card, you may not be able to see the Notes FactBox, like so: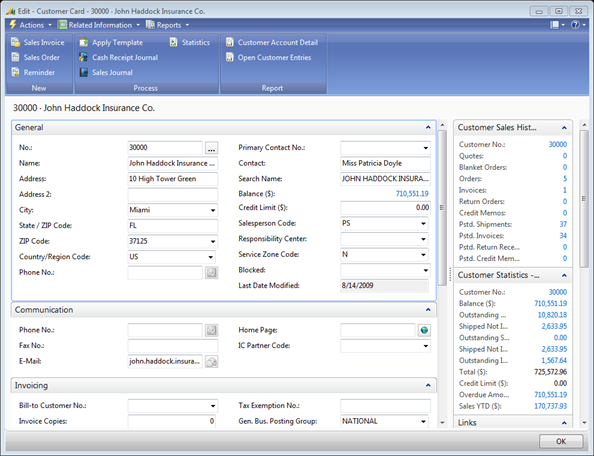 The farthest right scrollbar is for the FactBox area, so you can scroll down to find the Notes FactBox: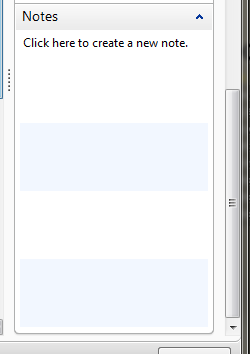 As the panel suggests, you can click on the Click here to create a new note, which will give you a tiny little panel to enter info into: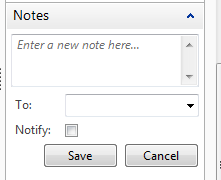 This note area may be small, but it can hold a massive amount of text,
so if you want, you can paste whole emails into the space.

In our example, we'll just note that we're blocking this customer. We don't need to say either the date or who is writing this note. (Skip the To: and Notify options for now) When we press Save, we'll see our new note: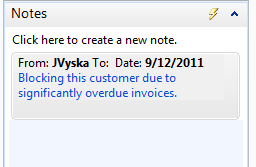 It provided the author information and the date for us. It's saved with the Customer, so it'll be present everywhere NAV users are looking at the Customer record (Note: Not available in Classic!).
Now let's notify our Collections agent, T. User, that they need to follow-up. Click to create a new note, enter some notice info for Ms. User to see, and then take a look under the To: option: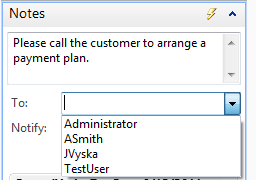 Other users of the NAV system will be available to select from. We'll select TestUser, check the Notify box, and select save. Now when Ms. User next opens her Role Center, she'll see an entry on her My Notifications panel:

By simply double-clicking on this Notification, the Customer Card for customer 30000 will open up. (This applies to Sales and Purchase documents, such as Orders or Credit Memos, as well.)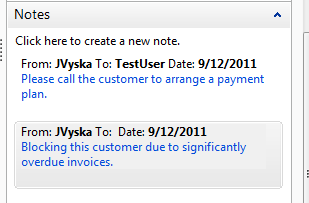 The note clearly shows who the note was from and to on which date.
When Ms. User is done resolving the issue, oh her My Notifications panel, she can right-click on the Notification and choose to remove the Notification part of the note. The note remains on the Customer Card, but it no longer will show on the Notifications list.
One other great feature mentioned above is that the Note space is very small on the screen, but it can hold a lot of information if needed. For example, Miss Doyle from John Haddock emailed us back with a written agreement for paying down the open balance. It would make sense to store that in a Note as well. So, Ms. User adds a note and pastes it into the new note.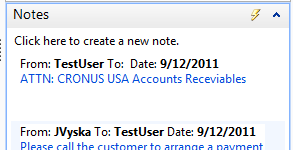 How do we view the whole note? Simply double-click on it to see this great view: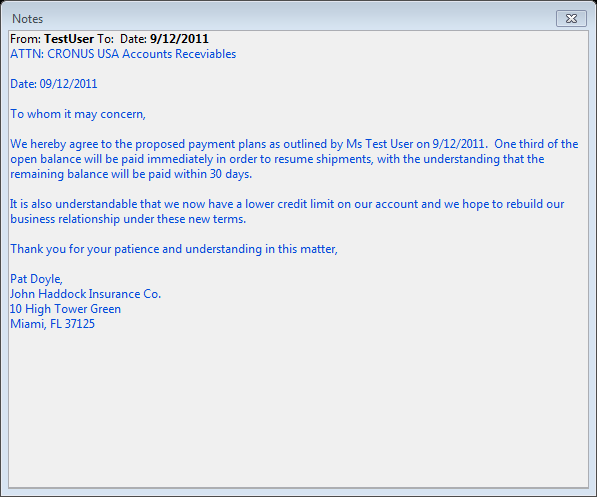 Hopefully this article will help folks see new ways they can move information out of Inboxes (where it can be forgotten, deleted, need someone to forward, etc.) or out of binders and folders into their powerful Microsoft Dynamics NAV system.